Business stories are two words that you don't often find paired with each other. Both are as distinct as Tom and Jerry. However, there is a strong link between the two. If companies manage to crack this link, you could well be the custodian of the magic potion of immortality. This is of course assuming that your products and services are stellar and live up to the customers' expectations.
Here's a little trivia for you to help you understand the strong link between business and storytelling. Can you pick a few of your favourite movies. Now, give a thought about what is it that you like the most about these movies?….. Let me give you a few options:
i Great song and dance routine
ii Rocking dialogues
iii Favourite actor or actress
iv Beautiful costumes and sets
v The story, the plot, and how the protagonist scaled the obstacles or failed to do so.
If you had to pick one reason why most of your favourite movies stand out, most likely it's the last option.
Have you ever wondered why? It's simple. Humans as a community love stories, blogs especially ones where odds have been triumphed over. Right from the stone ages; when some talented neanderthal made cave paintings of a man countering animals; to the present where we applaud simple solid stories on a 70mm screen.
We as humans are programmed to empathise. A hero who has been well etched automatically relates to us and therefore every heartbreak, victory or loss of the hero becomes ours.
Now here's another trivia – Think of a company or a brand that last evoked emotions as strongly as when you saw your favourite movie or read a heart-wrenching book. Chances are it may have never happened or rarely happened.
It's pretty peculiar, isn't it? People laugh and cry along with a fictitious character on screen but rarely feels these emotions with someone or something of flesh and blood and mortar. The simple answer to this puzzling feature is business storytelling, which has art and a bit of science to it, if done right can change the narrative as far as brands and corporates are concerned.
Every business has its own story – a beginning, middle and an end that usually leads to a happy customer or a client. Putting your story out there is akin to putting a soul into your business. It connects the dots from the product or service designing to the end-users and how it makes their life simpler. It not only humanises a corporate entity but also makes customers see value in you as a company and maybe even become loyalists.
Unfortunately, most companies employ these brand stories only in one or few of their channels. Implementing their stories across verticals can throw your company in a league of its own.
Let's see the ways in which story telling can be incorporated into the three main various verticals of business:
BUSINESS STORIES IN MARKETING
Marketing departments have long bitten into the storytelling bug because it has the maximum interface with the end-user or the customer. Those companies that had the legroom took advantage of weaving a story in their narrative. With the advent of digital media, the scope of incorporating stories have increased manifold.
Advertising – Story lines and storyboards run in the DNA of advertising. However, simply displaying-the-product type of advertising hardly creates any conversion rate now a days. Increasingly, even major brands and corporations are using stories of the company to connect. They could be a tad longer than the normal ads… But if done well do tend to hold the reduced attention spans of viewers. A recent example of this has been the ID ads which follows the story of a doctor mother caught in the middle of the Covid pandemic attending to her patients on one hand for days and nights at end while leaving her family and children behind. However, enter ID and their products which makes life easy for even a novice in the kitchen. Though slightly longer than traditional commercials, surprisingly tend to hold the viewers' attention for longer.
Brand story – Pinning down on a brand story is like finding out the soul of the company. A brand story is the underlying emotion that a company stands for. Putting a humane emotion to an inanimate object can be tricky. But running a business is anything but inanimate. It involves the sweat and blood of countless people. The best way to identify a brand story is to objectively look at target audience of your product or service. For example – a fitness drink may target high – end middle aged group keen on health and fitness. The brand story would derive from what you would like to tell your audience about your product or company or simply values. The brand story should then reflect throughout marketing, PR strategies and even reflect in the organisational workforce. One such campaign that stood out for me was Ariel's share the load campaign. Their advertisements were not just promoting the product but promoting values of equality through powerful real storytelling. The advertisements show tired women at work and putting clothes to wash while the men hardly bat an eyelid. A solid punchline to go along with the product, this campaign has been one of the most talked about in recent times, with discussions at the World Economic Forum as well. Talking to Forbes India magazine, the brain behind the campaign Josy Paul Chairman and Chief Creative Officer at BBDO India spoke about the need to have a "greater emotional connect with the consumer" through the product.
Another solid campaign that comes to mind is Tata Tea's Jaago Re campaign. This campaign took freshness and alertness, synonymous with India's favourite beverage – the tea, to the next level. Right from men standing up to the traffic rules to common folk saying putting a stop to rife corruption; also a typical banality in the country; it stirred the heart strings of every Indian.
Social Media – Although a part of digital marketing, social media has carved a great niche that calls for specialised attention. Social media has managed to bridge gaps between the end user and companies and celebrities in unimaginable ways. It is therefore essential to address it separately. Social media like Facebook, Twitter, YouTube are great tools to share your stories. This could chart the journey of your company, to the processes involved in your products. You can know more about marketing on social media channels here. The customer experience has also become a great way to reiterate the company values and ethos. The American technology company that mainly produces action cameras – GoPro, has taken marketing through customer videos to the next level as it effectively uses them to display their ethos.
Digital Marketing – Digital Marketing involves any content promoting a business on the online space. However, the difference between advertising and digital marketing would be their methodologies. While advertising is more direct, digital Marketing can tend to veer into the space of creating value. Not necessarily from their product but based on the needs of the end user in the realm of products provided by the company. For example, Kanya Life is a start up that provides essential oils based on the Chakra philosophy. Kanya Life's digital marketing campaigns or content are driven in the wellness space adding value to readers who would be inquisitive about chakras and alternative healing.
Customer relations – Customer is king no doubt but there are few companies that follow this unsaid rule by the heart. Customer will literally raise you to a demigod status if you keep them in mind. Play to your strengths when you service customers and see it lift your brand status. Let your intentions drive your brand and not the other way around. Tesla has proved how customer satisfaction drives their products. Apparently, an exasperated father named Joe once tweeted Elon Musk about the beeps and sounds of the car woke up his baby. Joe tweeted and asked Musk if there was a way to turn down the volume of these sounds. Musk not only replied to him in the affirmative but soon rolled out the "Joe Mode" in the their cars which had considerably lower volume of their alerts.
BUSINESS STORIES IN COMMUNICATION CHANNELS
Storytelling is a mode of communication. Its a no-brainer then that the communication policies of the company should effectively use this technique. Stories can help in scripting a narrative of a company and thereby not just strengthening the brand value of the company but also increase the overall well being of employees and customers.
Internal communications – The biggest asset any company can posses are their employees. Internal communications or communicating to your own employees is something that has been long undermined but is the most powerful tool there can be. Using newsletters, emails, blogs or social media, the company intranet bulletin board are tools can be used to a company's strength. Weave the company's values in each of these communication channels targeted to the employees and invite them to contribute. Here is an easy guide on what to include in a company newsletter. Feedback is almost akin to employee retention according to me. An employee who's suggestions and feedback get valued at work is more likely to feel a part of the company that he works in. Glenmark Pharmaceuticals' internal newsletter Synergy has a selfie with the family corner. This creates every employee feel a part of a bigger fraternity.
External Communications – Communication channels that the company engages in with external sources are called as external communications. Press releases, press engagements, Conferences, speaking events, CSR activities are some examples of external communications.
i Press Releases – Though not commonly used, story telling in press releases is something that can elevate the quality of your communication with the press. Instead of a plain vanilla press release, trying to write a release with the premise – obstacle – conclusion approach helps. Adding to the drama always increases the chances of visibility. For example, when Ford launched its iconic Mustang launch in India, its press release had drama written all over it rather than just a launch press release. Another good instance of using a compelling hook to tell a story through a press release is Vodafone India's statement about "delighting students from J&K". A closer read reveals scholarships being announced for students of 10th and 12 standards. As daunting as it may seem, writing a press release is not so difficult. To know more about writing an effective press release, check out this post on writing effective press releases that I had written.
ii Similarly, external speaking events or conferences are great opportunities for you to share your company's journey and story with the public at large. CSR activities tied to the company's values also tend to tell a story in itself about what you and your company believe in.
The Tata Group has always been at the forefront when it comes to corporate social responsibility. However, one such CSR activity that highlights how smartly it has weaved storytelling into it is the 'Women of mettle' scholarships. Standing true to it vow of gender equality in a sector dominated by men, Tata Steel awards scholarships to women after a rigorous training of female engineering prospects in the manufacturing Sector.
iii Shareholders and Investor relations – Investors or shareholders are an important part of the company. No important decision can bypass shareholders or investors be it public or private. The oratory skills of some entrepreneurs are of the stuff of legend. However, a closer inspection of these speeches will reveal how cleverly the narrative of he company has been scripted, assimilating the the core values of the company. Emotions run rife at some of the shareholders meeting and as a business leader you should try and capitalise on these emotions and use story telling rather merely throwing in numbers and five-year outlooks.
Outgoing Managing Director of the behemoth HDFC Bank Aditya Puri recently took a walk down memory lane at Annual General Meeting in July 2020. He told shareholders about his humble beginnings and how a bunch of his friends drinking coke and wearing Bata shoes decided to start "the best bank in the world" as they told interviewees. He spoke of the initial day challenges when computers wouldn't work, and how their first workplace was a complete mess. A passionate speech by a strong leader such as Puri is sure to convert every shareholder into a longer term buyer.
BUSINESS STORIES IN HR MANAGEMENT
Human resource management is often identified with hiring and firing people but is so much more than that. As the name suggests, it is all about managing the people who work for you, whether they fit into the culture of your company.
Recruitment drives – Design your recruitment drives through stories. Tell your potential employee why they should join your company. Instead of inviting applications though the run-of-the-mill route, do this through stories and see the response shooting through the roof. A random search on the web courtesy officechai.com led to me stumble on this ingenious recruitment advert from ContactIQ.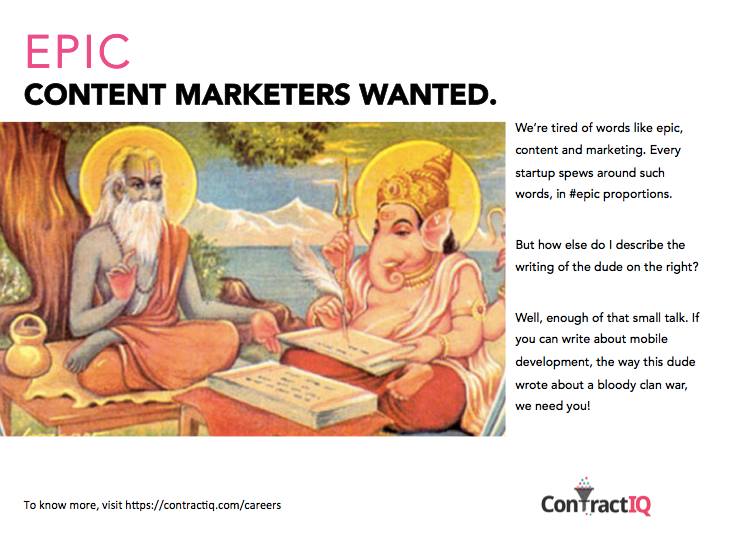 Inherently Indian, and at the same time driving home the point of what is expected, while cutting out the frills hit bull's eye. other recruitment drive that had quite an impact was the Teach for India flyers. Each of their campaign tries to evoke action while empowering the reader of being a change maker.
Retention policies – Who doesn't like a little change from the usual office routine. Make your retention policies a bit more interesting by throwing in a bit of drama. Gowri Priya Sethuram, an employment engagement specialist, has taken storytelling at the workplace to the next level. A trained Bharatnatyam dancer, she uses dance and storytelling to evoke emotions such as leadership, empathy and teamwork through her company India Shades Art Management.
Team Building and Training – Remember those overnight picnic trips with your school or college buddies. Such picnics are best remembered for the campfire stories, mostly ghost or horror stories. But what really stands out from these excursions were the friendships and the team spirit that got fostered as a result. Cut to office offsites, which could turn out to be drag if the management bombard the employees with their speeches and presentations. Why not make it a little bit more interesting by including team building and training programs that weave a story along. A number of firms offer such team building exercises through story-telling.
One such is Catalyst Team Building, which has a number of novel programs offering its corporate clients. Escape the Blizzard (a winter wilderness challenge), The Haunted House (a virtual team-building exercise of the traditional fun-n-fair game), Win it in a Minute, CSI La Haciencda (A 3D whodunnit) to name a few. Devdutt Pattnaik, the mythology expert, is often seen typing up mythological stories to the corporate set-up.
 Mixing business with emotional storytelling can be a heady mixture if you can get a tad creative. And each of us is blessed with abundant creativity, all you need to do is tap into it. See how you can boost your creativity skills to create great content for your business. So put on those creative thinking caps and go out there and tell your business story. You would be surprised about how many people will open their senses and hearts to you.
Let me know how was your experience building your brand story across these verticals.